Case Study
Fluid Data - Providing the conduit to consistent asset data flow
Bogged down by a paper-based asset maintenance system and data disconnects between the field and office, there was a need for an integrated system to proactively manage aging infrastructure assets with data-driven, predictive decisions.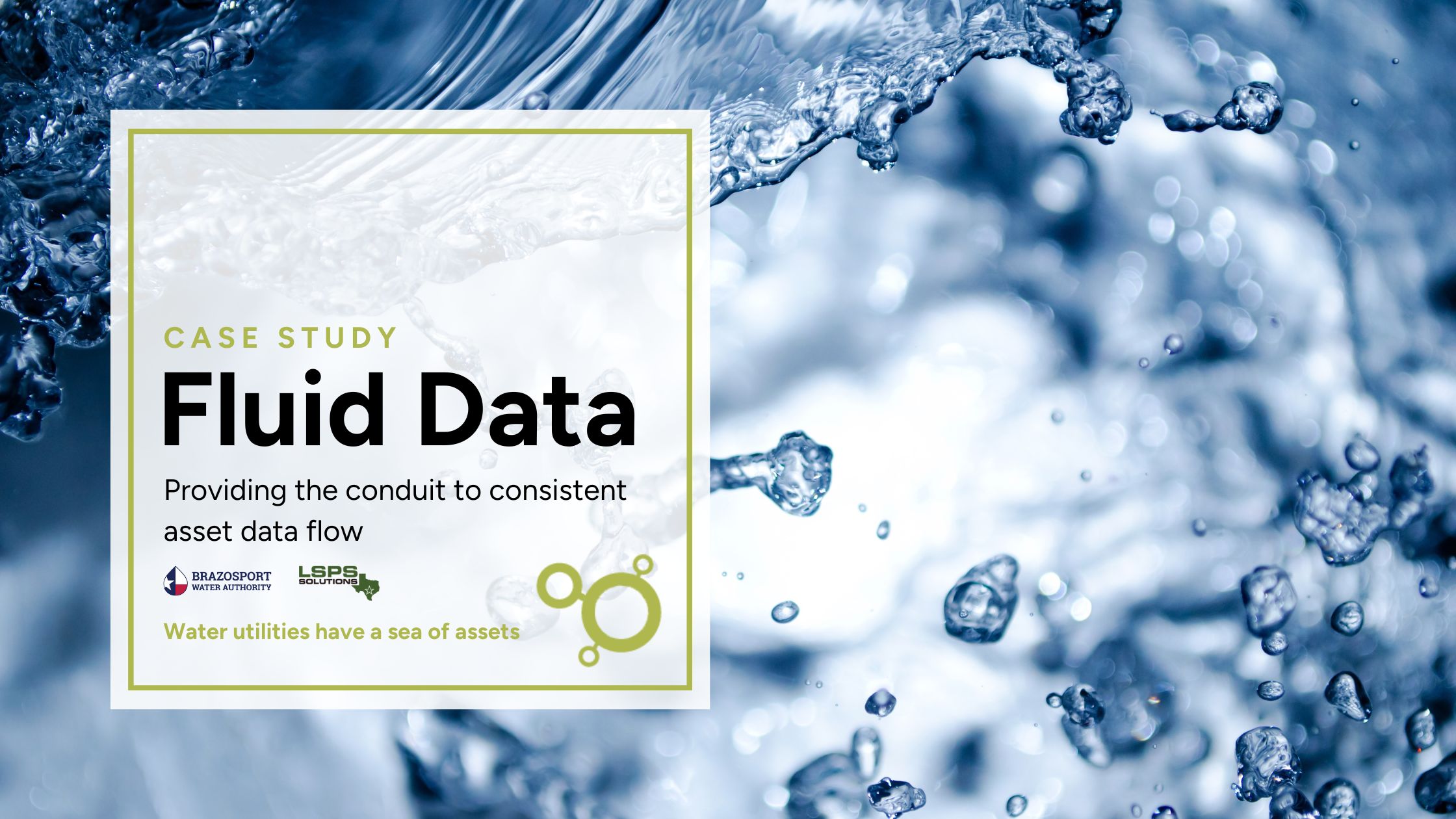 Water utilities have a sea of assets.
From the smallest valve to the largest storage tank, utility facilities invest millions in their fixed and mobile assets to ensure quality water flows reliably and consistently to their customers. But essential data about these assets and their attributes, their health and maintenance, does not always flow as fluidly or consistently.
That was the challenge facing Brazosport Water Authority (BWA), a public utility that delivers 15 million gallons of water a day to 136,500 people in the communities of Brazoria County, Texas.
Bogged down by a paper-based asset maintenance system and data disconnects between the field and office, BWA needed an efficient and integrated system that would provide the accuracy and enterprise-wide visibility to proactively manage aging infrastructure assets with data-driven, predictive decisions.
"Our high-quality water service depends on the proper maintenance of our pipes, pumps, tanks, and systems, while also controlling costs and reducing risks," said Ronnie Woodruff of BWA. "Although we've been able to meet customer needs, we've been making complex operational and strategic decisions with disconnected data silos, which has strained our resources. We needed to bridge these silos to better track and maintain our assets, understand the costs and unlock the hidden value in relational insights."
The Problem
BWA was using a highly manual workflow to monitor and maintain assets. Paper was the primary data collector––paper maintenance schedules, paper work orders, paper service reports and paper O&M manuals––and manual data entry was the primary field and office data process.
The lack of a dynamic, holistic view of the structural integrity of its assets made data sharing, collaboration and decision-making difficult for BWA. The utility turned to LSPS Solutions, a Texas-based infrastructure solutions provider, to displace its physical workflow with an integrated, automated system that would be a conduit to accurate, flexible and reliable asset information.
LSPS transformed its paper-based methodologies by creating digital O&M manuals, installing Slate Pages smart asset tags on its maintenance equipment and implementing a computerized maintenance management system (CMMS) from Cybermetrics to integrate and manage the tag data.
Although the asset tags and CMMS would enable the authority to track asset data and perform maintenance tasks more effectively, the solution was missing two critical connections: interoperability and automated data flow.
Recognizing Spatial DNA's expertise in data integration, software interoperability and workflow automation, LSPS enlisted our company to resolve BWA's data bottlenecks, synchronize maintenance work order activities and automate information flow across the organization.
The Solution
From April to November 2022, Spatial DNA worked with LSPS Solutions, and their selected software providers, to implement an integration platform that would connect BWA's office and field teams, enable personnel to readily view their asset data and automate maintenance work scheduling, ordering and reporting.
While LSPS Solutions installed Slate tags containing loaded O&M manuals and asset information on 1,000+ pieces of equipment, Spatial DNA customized their software platform to integrate extracted asset tag data with the CMMS. This integration allowed BWA to view all the asset data in one place, creating a better environment for making informed decisions about maintenance, repair or replacement.
Spatial DNA also developed a verification system that mirrors work order information from Slate tags to Cybermetrics so the CMMS can automatically schedule and issue preventative maintenance work orders. A continual check on data capture and quality, the system also flags any anomalies or inconsistencies in the data, triggering an immediate review.
"Bridging BWA's interoperability and automating data flow not only eliminates manual data entry, data errors and duplication, it allows personnel to work on the systems that they normally work in without having to go to another department. BWA can now be more efficient and effective because they have the visibility on their desktop to make decisions based on actual information, not speculation." - Rob Hewitt, Corporate Development Director, Spatial DNA
The Result
Today, BWA's process of collecting, updating, analyzing, scheduling and reporting asset-maintenance activities is an exercise in clicks––manual labor now only relates to the physical work of repairing or replacing assets.
Rather than carrying paper to fulfill work orders or collect asset data, teams can now scan a smart tag to view relevant attributes or O&M manuals, perform maintenance per the digital work order, complete the standardized order form and submit the report for integration into the CMMS. The system is then updated with the work that was done on that particular asset, enabling BWA to not only track their preventative maintenance activities, it gives them insights into asset health, structural integrity and maintenance costs so it can proactively manage its water network.
To make sure BWA's asset-related data is flowing as it should, a Spatial DNA team monitors the integration platform and data exchange. Any data that doesn't meet specifications triggers a service ticket for our team to investigate and resolve.
"I'm a water guy, not a software guy," said Lynn Short, LSPS Solution Solution's President. "Spatial DNA was able to break down their integration and automation platform into terms I can understand, which allowed me to readily see the value they'd bring to BWA. And their continued monitoring support enables us and BWA to focus on connecting more assets to the existing system."
Based on the initial project's success, in the Spring of 2023, LSPS Solutions Solutions began adding pipeline assets to the system, with the ultimate plan of connecting all of BWA's assets to the CMMS.
"Our workflows have improved dramatically," said Ronnie Woodruff of BWA. "We're more efficient, we've reduced costs and most importantly, we've increased asset lifespans. This is the kind of data-driven insight we've needed."
As a result of this project, BWA's asset data is now flowing as fluidly as the water it supplies.