Application Integration
BUILD vs BUY for software vendors and implementers
Should we outsource or build our own application integrations?
---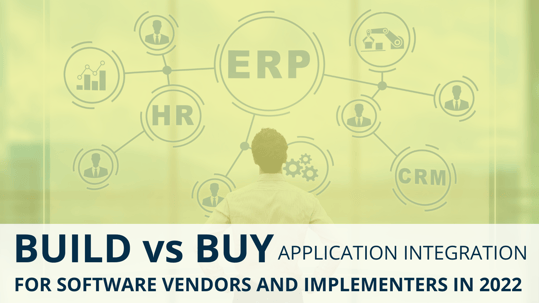 Should we outsource or build our application integrations?
An important decision that software vendors and implementers face is the Build vs Buy decision. There are benefits and drawbacks to both hiring in-house staff and outsourcing. With application integration in particular, many organizations are uncertain about who is best equipped to handle it, and what is the most effective means of getting the job done.
Should we build our own application integrations?
A build approach may feel like a more reliable approach if you are a vendor or implementer with the means to staff your application integrations in-house.
Some questions to help you consider whether building your application integrations in-house:
Does your business have the budget, time, and resources?
Building in-house requires staffing full-time developers and teams with specialized technical skills. This can be expensive and take a long time. If your bottom line could be positively impacted by dedicating extensive resources to researching and building integrations that support many types of systems, this may be a worthwhile approach. The process of determining whether building in-house is a worthwhile investment can also take substantial time and effort.
Is internal control of application integration important to your business?
Some businesses need to maintain control of the approach, technology, and code. If your company needs access to the code-base, and to understand how it works without any learning curve or underlying assumptions, you may wish to consider building your application integrations.
What are the pros and cons of an in-house (build) approach to application integration for a vendor or implementer?
PROS
CONS

Familiarity with the data, procedures, and workflow within an organization. In-house staff have already been through the onboarding process and are already aligned with the organization's mission, goals, and processes.

Compliance and consistency. Internally staffed activities can be easily monitored to ensure compliance and consistency within organizational standards.

Additional service revenue opportunity for implementers. Some vendors and implementers are interested in providing this additional service to their customers and have the resources to staff the work.

Control of the approach, the technology, and code. Access to the code-base, understanding how it works, no learning curve, any underlying assumptions are addressed.

Availability. Internally-sourced skills are readily available on-hand to deal with any maintenance, upgrades, troubleshooting, or changes.

Higher cost. Employee salaries, along with benefits, equipment, and training, cost more overall. Actual costs are often unforeseen and unintentionally hidden in various cost centers throughout the organization.

Takes longer. Staff are often hired to take on a variety of tasks and projects, and fewer hands may be involved in getting the project done. As a result, each project's progression can be slower.

Insufficient skill or resources. An organization may simply not have or be able to staff the skilled workers required to implement and manage application integration.

Staff retention can be challenging in this field. The demand for employees with specialized technical skills is increasing, and companies are seeing a migration of skilled employees who are being recruited by large corporations.

Management and maintenance of the integration must be addressed with a service agreement. Updates may be needed frequently. There is reputation risk if your integrations require customers to amend their workflows in order to function.

Requirements from customers may be vague which can lead to budget uncertainty, risk to estimated timelines, and project delays.

Financial risk may attach to you if customer financial reporting or compliance activities are reliant on the integration.
Now that you have a clearer picture of some of the advantages and disadvantages of building your application integrations in-house, what about the alternative?
Should we buy (outsource) our application integrations?
Here are a few questions for you to consider.
Is there an existing licensed solution that meets your (and your customer's) needs?
You may wish to seek an existing licensed solution that meets your needs and the needs of your customer. If so, this can potentially save a lot of time and money for everyone involved. Many licensed solutions offer customizable options that can be tailored to the needs of each project.
Do you have time or budget constraints?
If you are working with deadlines and need to provide your customers with application integrations in a time-efficient manner, outsourcing your solutions is your best bet.
Outsourced integrations are generally quicker to implement and may cost less than using your internal (non-specialized) staff.
Take a look at Spatial DNA's Product & Pricing catalog for a general idea of costs associated with outsourcing application integration.
You can also request a quote from Spatial DNA, for a more customized approach.
What are the pros and cons of an outsourced (buy) approach to application integration for a vendor or implementer?
PROS
CONS

Time-efficient. The job can often be done quickly, as teams have established workflows, specialized skills, and experience.

Lower cost. Companies who specialize in application integration have a well-established workflow, existing tools or platforms, and can efficiently manage resources to provide value.

Expertise. All business activities of an integration software or services company are focused on building the integration platform and supporting services. They know the ins and outs of the process, and have the experience to deliver products that work for their customers.

Optimization. The solution is tailored to the customer's needs.

Customer concerns are easily addressed in contract terms and conditions.

Passing control to an outside party is a perceived risk due to data sensitivity and unfamiliarity with internal processes.

Alignment of values. An external organization has its own mission and values, which may not fit in terms of customer focus, project priority, or general culture of staff.

Third-party dependence is inherent. The efficiency of the customer's operations rely on the continued existence of the third party's business and relationship with the customer.

Licensed solutions may require additional reorganizing of data processes.

Financial risk may attach if customer financial reporting or compliance activities are reliant on the integration.
Now that you have informed yourself about some of the reasons software vendors and implementers choose to build or buy their application integration solutions, we hope you have some insight to assist you in making the right choice for your company.
If you're considering buying your application integration solutions, and want to learn more about your options, we'd be happy to help.